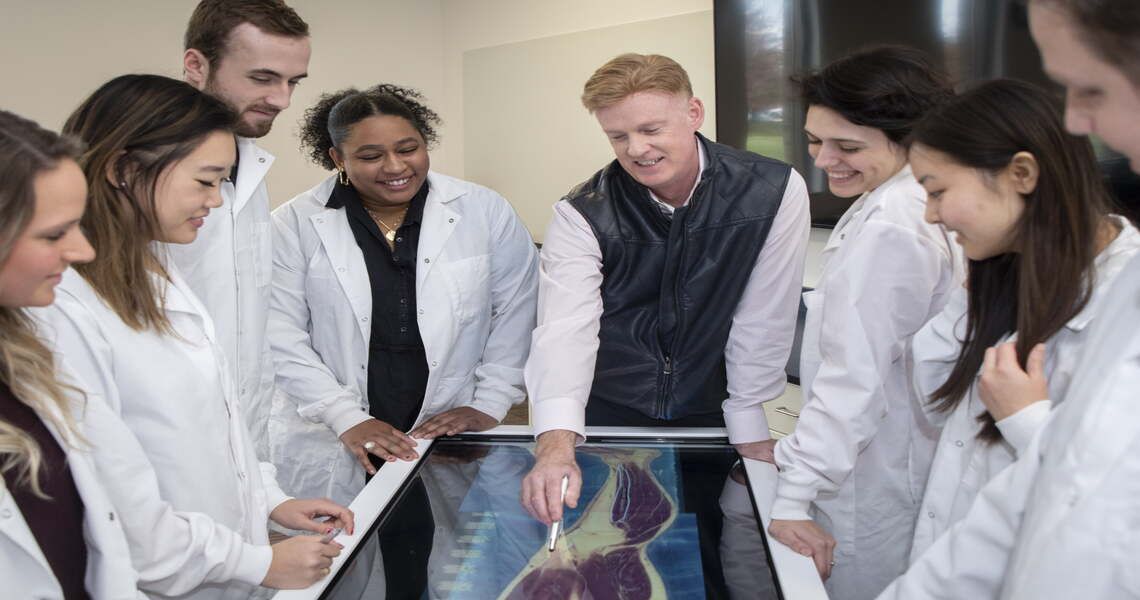 OSS Learning Support encompasses a variety of resources and services to foster students' academic and clinical learning experiences, as well as personal, professional, and educational excellence. The learning supports are designed to promote life-long learning of all SMHS students as members of a community dedicated to the improvement of healthcare.
OSS Learning Support includes a variety of virtual and in-person resources and services designed for students to reach their full learning potential. The supports promoted by OSS are evidence-based learning strategies and techniques. They include, but are not limited to meetings with the Learning Specialist, peer tutoring and coaching, workshops, and posted resources.
OSS Learning Support is a unified learning framework grounded in the science of learning, that is:
aligned with current cognitive science.
endorsed by learning theory
modeled through peer tutoring and coaching
Meeting with the Learning Specialist

Are you interested in personalized feedback through discussions with the Learning Specialist on topics such as:

effective and efficient learning strategies
implementing better test-taking skills
self-regulated learning skills for enhanced mental health, academic and clinical performance
establishing a growth mindset
problem solving and goal setting

You can directly book an appointment through this link. Please note that these meetings are available to all SMHS students and will be conducted virtually.

OSS also offers the Learning and Study Skills Inventory (LASSI). This 60-item assessment measures a variety of areas such as anxiety, motivation, time management, test strategies, and self testing. This is a valuable assessment tool to target specific areas that need improvement. The assessment is free to you! If you are interested in taking this assessment, please mention it to the Learning Specialist during a meeting.

Peer Tutoring

The GW SMHS Office of Student Support (OSS) works closely with many SMHS programs to offer peer tutoring. Peer tutors provide academic advice and support student learning through a holistic approach to supplemental instruction.

OSS tutors support students through problem-solving skill development, study techniques, and sharing content knowledge through one-on-one appointments (virtual or in-person).

OSS tutors receive standardized training and are supported by the learning specialist.
If you would like a peer tutor, send an email to smhsstudents@gwu.edu. In the subject line, include the following: "Peer Tutor Request" and the name of your program.

Please keep in mind that it may take two or more weeks to connect you with a tutor if we do not already have a tutor for your particular class. Therefore, it is recommended that you submit your request early.

Health Science students – if you are interested in becoming a paid peer tutor hired through Student Employment, please email OSS (smhsstudents@gwu.edu) for more information.

Study Skills

Time Management

Do you find it challenging to balance everything going on in your life? The Office of Student Support provides one-on-one student success meetings to discuss various strategies to improve academic outcomes, including time management skills. If you are interested in scheduling an individual appointment, visit our Contact Us page or email: SMHSStudents@gwu.edu.

Looking for quick resources? The below documents may be helpful:

18 Minutes: An exercise in making realistic goals that can be accomplished. The
exercise encourages reflection throughout the day. One is encouraged to wrap up the day with identifying successes and challenges encountered during the day to identify what will be repeated or done differently the next day.
Eisenhower Box : A tool for prioritizing tasks. Tasks are placed in one of four
quadrants, ranging from Important and Urgent to Not Important and Not Urgent. Priority of time is developed to the most pressing tasks and others are allotted less priority and time.
Pomodoro Technique: This helps determine how much time is needed to complete
tasks, then break down larger tasks to complete in smaller chunks of time (20 or 40 minutes chunks). The method builds in time for movement and time for mental disengagement every hour.

Workshop Material

Road to Residency Preparation

To access the full recording from the last Step 2 workshop, visit the R2R website.