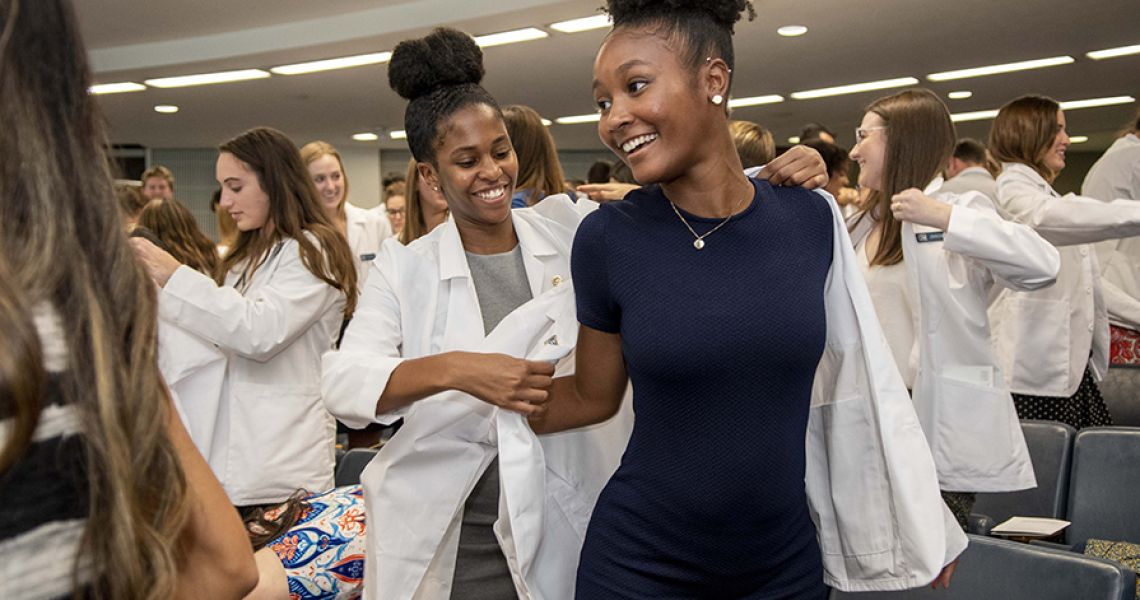 Anti-Racist Coalition (SMHS ARC)

In recognition of the ethnic and cultural diversity of our students and their interaction with others, we the faculty and staff of the George Washington University School of Medicine and Health Sciences, the George Washington University Hospital, Children's National Hospital and the George Washington Medical Faculty Associates hereby commit to the development and active implementation of an antiracist academic community to identify and eradicate all forms of racism and ethnic oppression. We purposefully commit to identify, discuss and challenge the impact that race and ethnicity have on influencing our didactic training; subsequent patient interactions; institutional policies, culture and climate; and interactions with one another.

Additional information on the ARC, including ways to get involved, can be found on their website.

Commencement Celebrations

Details on the HS Commencement Celebrations can be found on Student Services and Graduation website. 

Details on the University's Commencement Celebration on the National Mall can be found on GW Commencement website. 

Community Service

Looking for a way to give back? SMHS offers students a number of opportunities to get involved in their community with service projects and initiatives, which can be found here.

Additional community service opportunities can be found through the Honey W. Nashman Center for Civic Engagement and Public Service, which can be found here.

Events

Each year, the Office of Student Support sponsors a number of events including Community Service Day, the Day in a Life Event, and various workshops designed to foster student success. For information on student events sponsored by OSS, please visit the Events webpage.

Additional information on SMHS events that are open to all members of the community may be found by visiting the main SMHS Upcoming Events webpage.

Himmelfarb Health Sciences Library

As a School of Medicine and Health Sciences student, your home library is the Himmelfarb Health Sciences Library. As your home library, you can access core research tools and services via Himmelfarb Library and can request to borrow materials from other nearby academic libraries (American, Catholic, Georgetown, etc.) using the Consortium Loan Service available in the Health Information @ Himmelfarb search tool. Himmelfarb Library offers an Online Orientation series and tutorials to familiarize you with the many resources available for students. You also have access to GW's Gelman Library.

Off-campus students should use the Virtual Private Network (VPN) or login via the Himmelfarb website. For both off-campus access methods, login with your GW NetID and password - i.e. your GW email address and password.

Scholarships

Scholarship opportunities for SMHS students will be posted here. Content will be updated regularly, so please keep an eye out for out.

Student Organizations

The School of Medicine and Health Sciences is home to a number of student organizations and professional interest groups. The School of Medicine and Health Sciences maintains an active list of more than 80 special interest groups for students studying medicine and health care. OSS has collected videos and material on a number of student organizations!

We encourage you to explore the many opportunities to get involved with the GW SMHS student community!

If you are interested in starting a student organization or special interest group, please contact the SMHS Office of Student Professional Enrichment at ospe@gwu.edu for information.

Student Research

Research discovery and translation to practice are at the core of the SMHS mission. By accelerating research excellence, enhancing innovation and advancing translation, the school's goal is to discover new knowledge and improve care.

For information on SMHS research, and possible opportunities for student collaboration, please visit Research at SMHS.

All MD student research opportunities can be found on the MD research website and the links therein. The Office of Student Professional Enhancement  houses the MD scholarly concentration programs as well.